Teenage Fanclub 335 Refret & Repair
27 November 2019 | Evie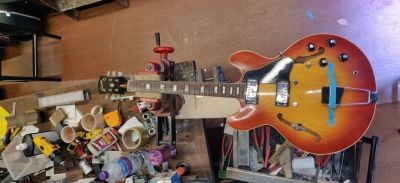 Recently we had Raymond from Teenage Fanclub in the store, he brought in Norman's vintage, original sunburst 1971 Gibson 335 which required quite a bit of work on the frets and bridge in particular.
In addition, I discovered a lateral crack in neck which I had to address before I carried out the refret! First of all I carefully removed frets from the rosewood fingerboard and selected the highest quality American fret wire (we usually use Jim Dunlop, Stewmac or occasionally Jescar) and set to work refretting it and bringing the neck back to life and ready for the studio and gigging again. You can see the process in the photos below. When it came to the bridge, it had been dished, a common problem with ABR tunomatic bridges. Due to the damage on the bridge, the post on the body had also bent so I set about replacing that before, putting in a new Tonepros bridge.
Check out the photos below which help tell the story of this job and if you want to know more about about the illustrious career of Teenage Fanclub follow the link HERE.