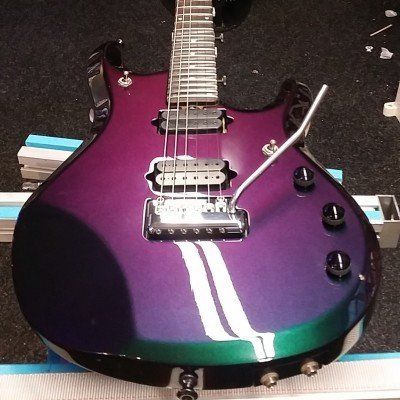 It's green!… No it's blue!…. No it's purple!….This iradescent beauty graced my bench recently. Isn't she a looker? The customer badly needed a refret on this Ernie Ball Musicman John Petrucci…he's a busy musician and his frets tell the story. After much deliberation…he decided…or rather, I talked him into it. ….on fitting the heaviest wire we hold in the workshop!..namely Jim Dunlop 6000. This is hard nickel silver american wire and let me tell you,…it's a man's wire. It's big and chunky and if you don't have the chops or technique to fret it just right..you'll squeeze your strings so they sound out of tune (that is unless you have an Evertune ™ system fitted!). It turned out great! He also asked if we could scallop the fingerboard above the 14th fret. I started out by scalloping the fingerboard first with the original frets still in place at this point. The new frets will be wider so I had to take account of this whilst filing the grooves. I used a combination of gouges, round and half round files and finally fine sandpaper wrapped around dowel formers to carefully shape these delicate curves. This was done by eye. Every radius is slightly different, the narrowing distance between frets dictating the radius as I move up the neck. …In a foolish moment I told the customer I could remove, save and replace the original MOP custom shaped markers! I didn't reckon on them being just 1.00mm thick…but I managed! The problem is.. Because the surface I will be inlaying is now concave… I'm really inlaying across the tangent of a curve… This was tricky but we like a challenge here and we're more than capable! Lol!
A full pro setup and of course a PLERK™ job (all our refrets get this).. This guitar practically plays itself now!
The customer was kind enough to let me know via Instagram that the guitar plays like a dream! Happy days!